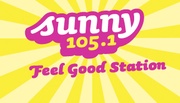 Sunny 105.1 FM - FM 105.1 - Amman
Feel Good Music
Oops… Sunny 105.1 FM is temporarily unavailable.
Click here to visit the Station's website:
Who We Are Launched in 2008, Sunny 105.1 is Jordan's premier station for Feel Good Music. We feature the best of Jordanian listeners' past & present all-time favorite songs dating all way back to the 80's and up until 2010. Targeting a mature audience age 30 and above, Sunny 105.1 ... See more is loved by young professionals, couples, and family oriented listeners.