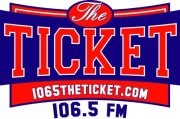 WLQR - AM 1470 - Toledo, OH
The Ticket
Oops… WLQR is temporarily unavailable.
Click here to visit the Station's website:
WLQR (AM) is a sports/talk radio station on 1470 kHz Toledo, Ohio. WLQR is the Toledo affiliate for ESPN Radio and is owned by Cumulus Media. The station is now mostly simulcast on 106.5 WLQR-FM and calls itself "106.5 The Ticket".